The Chinese sedan market continued to decline in May. According to statistics reported on by Gasgoo.com (Chinese), monthly sales totaled 835,859 units, down 9.1% from the previous year. Sedan sales accounted for 49.1% of all Chinese passenger automobile sales that month, down 4.1 percentage points year-on-year.
The decline in sedan sales was felt by mostly all manufacturers, with only Japanese and domestic own brand manufacturers managing to achieve very slight positive growth. German brands continued to lead the market, with a total 281,160 sedans sold. Despite accounting for over a third of all sedan sales sold in the country, the figure was 3.2% less than the amount sold the previous year. Japanese and domestic own brand sedan sales were largely on par with last May, totaling 201,440 units and 154,468 units, respectively. American sedan sales decreased a slight 1.9%, totaling 135,838 units. Meanwhile, Korean and French manufacturers saw their sales fall considerably, decreasing 57.5% and 56.9%, respectively.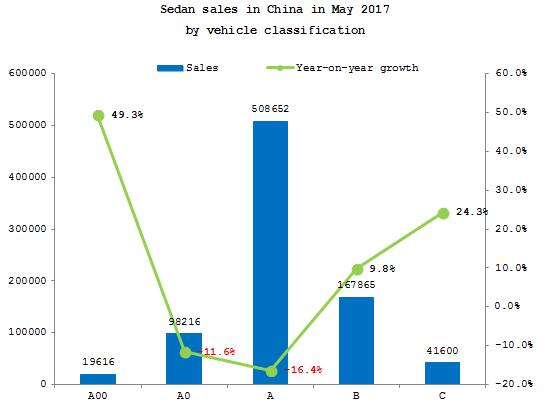 A-class sedan sales continued to be the major driving force in the sedan segment, accounting for 60.9% of all sedans sold in the country. However, A-class sedan sales fell a full 16.4% year-on-year. A0-class sedan sales also suffered a negative year-on-year decrease in the double digits, with monthly sales even failing to surpass the 10,000 units mark. B-class and C-class sedan sales, on the other hand, increased 9.8% and 24.3% year-on-year, respectively.
FAW Volkswagen was the top seller of sedans in China for the month of May, followed by Shanghai VW, Shanghai GM, Dongfeng Nissan, FAW Toyota, Changan Ford, Geely, Guangqi Honda, Beijing Hyundai and Dongfeng Honda.
Although the big three of FAW-VW, Shanghai VW and Shanghai GM continued to lead the rest of the market by a considerable margin, they still saw their sales decrease. FAW-VW sold a total of 129,305 sedans in May, down 1.5% year-on-year, while Shanghai VW and Shanghai GM's monthly sales totaled 109,243 units and 93,865 units, decreasing 12.3% and 6.6% year-on-year, respectively.
Dongfeng Honda beat out Brilliance BMW to finish tenth in the rankings. The JV sold 25,147 sedans. Dongfeng Honda's sedan sales grew a commendable 88.3% year-on-year, due in large part to the competiveness of the new Honda Civic.
Geely was the only own brand manufacturer to find its way into the top 10. The manufacturer sold a total of 41,775 units in May, up a slight 5.1% year-on-year. Changan Ford also managed to achieve positive year-on-year growth in the month.
A-class sedans dominated monthly sales charts; nine of the ten top best-selling sedan models being A-class sedans, with the only exception being the B-class VW Magotan. The VW Lavida was not only the best-selling sedan of the month, but also the best-selling passenger automobile overall, with its sales growing 4.3% year-on-year. It was followed by the Nissan Bluebird Sylphy, Buick New Excelle, Toyota Corolla, VW Jetta, VW Magotan, VW Sagitar, Ford Focus, VW New Santana and Geely Emgrand EC7.
The Bluebird Sylphy overtook the New Excelle to be the second best-selling sedan of the month. The Bluebird Sylphy's sales increased a full 13.1%, compared to only a 0.7% increase in the New Excelle's sales.
The Ford Focus managed to make the top ten despite its sales decreasing 10.9%, while the New Bora was failed to make the cut.
The only own brand model to make the top ten sales chart was Geely's Emgrand EC7, sales of which totaled 14,211 units.
As mentioned above, the Magotan was the only B-class sedan to make the sales chart. Its sales grew a full 77.3%, with a total of 20,659 units sold over the course of the month.
Gasgoo not only offers timely news and profound insight about China auto industry, but also help with business connection and expansion for suppliers and purchasers via multiple channels and methods. Buyer service: [email protected] Seller Service: [email protected]
All Rights Reserved. Do not reproduce, copy and use the editorial content without permission. Contact us: khoahocxaydung.info.